Approved Training and Certification Courses for the Hospitality Industry

Bartender / Server Training & Certification Online:

Why do you need a bartending certification (bartending license). Bartending Certification can make finding employment as a bartender much easier and help to make you a better bartender. Many states require an Alcohol Server Certification (bartending license) before anyone can sell or serve alcohol in the state. Check the map on the right to find out if PSCC can provide you with your state's alcohol seller server certification.

How old do I have to be to bartend?

Alcohol Seller/Server Certification is designed to ensure that employees understand liquor laws and act responsibly. This type of certification typically requires a short class approved by a liquor control board (where applicable). You can call your local government in the blue pages to check on local regulations.


We offer a separate, state-specific alcohol server certification course you can take online that will satisfy the requirements in most areas. It is a good idea to get this additional certification because many establishments require this training to lower their insurance rates, and can also help you stand out from other job applicants who don't have server certification

Remember that your employment will not be based on alcohol server certification. It will be based on your bartending ability and knowledge of customer service. The training you receive from us will provide you with the knowledge to start working right away as a bartender or seller/server.

How can I sign up?
You can enroll through the online form using a credit card and get instant access online. Click the Enroll link to go to the enrollment form.

Liquor Liability Insurance

---

Anyone who operates a retail store or restaurant that sells any kind of spirits, is at risk for liquor liability claims. Chances are that your state requires restaraunt and bar owners to carry liquor liability insurance. Therefore, employers are more eager to hire bartenders, waiters, and waitresses that have Seller/Server Certification because they can get discounts on their liquor liability insurance if their bartenders and staff are certified through a Responsible Serving Training Course.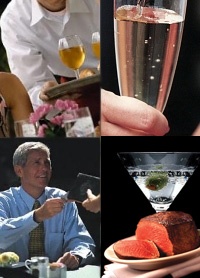 About Us
Professional Server Certification Corporation (PSCC) offers original state-of-the-art training courses that integrate audio, multimedia, retention testing, and feedback for the hospitality industry. PSCC can accommodate individuals or adapt a course for any size organization that wants to train employees.

PSCC is backed by a professional support staff that can answer your questions personally using our toll free hotline. All courses are well-designed, simple to use, and can be taken entirely online using any type of Internet connection.

PSCC's Responsible Serving Course provides official certification for alcohol servers and sellers, and possible insurance discounts for establishments.
TABC Approved
Bartending License
Certification #530-599

Illinois Basset
Bartending License
#05-5A-0066760

Wisconsin DOR Alcohol
Seller/Server Certification
125.04 and 125.17

Approved by:

California Department of Alcoholic Beverage Control
Illinois Liquor Control Commission (BASSET)
North Carolina Alcoholic Beverage Control Commission
South Dakota Department of Revenue & Regulation
Texas Alcoholic Beverage Commission
Utah Department of Alcoholic Beverage Control
Vermont Department of Liquor Control
Wisconsin Dept. of Revenue
Wyoming Department of Revenue - Liquor Distribution Division