Approved Training and Certification Courses for the Hospitality Industry






BARTENDER MIXOLOGY COURSE:
Meet people, have fun, make money! Bartending is one of the most exciting careers today; no other career is as fun and profitable while taking so little time to learn. Professional bartenders are always in demand worldwide - hundreds of thousands of jobs are available in restaurants, bars, hotels, resorts, night clubs, and even cruise ships.

Our Bartender Mixology course is based on the curriculum that we have used in bartending classes since 1987. We have trained thousands of bartenders in live schools as well as tens of thousands of bartenders online. PSCC is the first online bartending school and a respected company with numerous certifications across the USA – receive your training from the leader and save money!

This course will teach you everything you need to know to be a professional bartender, including drink recipes, cream drinks, garnish & mixers, two liquor drinks, sour drinks, martinis, highball & juice drinks, exotic drinks, wine drinks, hot drinks, shooters, customer service, and more! Graduating from this course is similar to having a year's worth of bartending experience. This course can be used for training in all states.

Pricing
The cost of Bartender Mixology Certification through this course is only $49.95! This is the same certification you would get from a traditional brick-and-mortar school, but for hundreds of dollars less and with the advantage of online learning.

General Information
This course is designed to allow you to increase your bartender mixology knowledge through easy-to-master lessons. You will learn specific and detailed information about a variety of liquors and drinks that are served in today's bars and restaurants. 

How long does the course take?
This course normally takes about 40 hours, but it is self-paced, so you can take as much or as little time as you wish to complete the course. You will use interactive flashcards to practice the concepts from each lesson and memorize important drink recipes. The key to your success depends on you; there is no substitute for practice.



How can I sign up?


Simply click the "Enroll Now" button to go to the online enrollment form. You will receive instant access to your course online and be on your way to becoming a professional bartender!

BARTENDING MIXOLOGY COURSE FEATURES

12 Interactive Lessons
The lessons display on your computer and include embedded audio, video, and color photos. Each page is a complete learning experience: tips to memorize the drink, the recipe, photos, audio/video, and the supplies you will need to practice. Each lesson has a quiz and audio instructions.

125 Audio/Video Segments
We have included over 2 hours of embedded audio in this course to facilitate learning. Listen while the instructor explains the drinks and provides helpful summaries. There are also video demonstrations of drink preparation in every lesson.

400 Photos and Illustrations
The course contains color photos of each drink and the liquor/liqueur(s) used so you can become familiar with the appearance and glassware. The course also includes a photo sequence of each step in a drink's preparation.

16 Self-Grading Quizzes
Each lesson has at least one online quiz that tests and reinforces your knowledge. When finished, the quiz gives you your score and displays the correct answers. You can retake all the quizzes as many times as necessary. After passing the final exam, you will receive a password that unlocks your official, ready-to-print certificate.

Bonus Bottle Tricks Lesson!
Added due to popular demand, this bonus lesson (complete with videos) explains the fundamentals of flair bartending for those who are ready. Bartending is part showmanship, so an excellent bartender should know a few tricks like Tom Cruise in Cocktail!

Student Manual*
This is the same manual we use at traditional schools. It is divided into 12 lessons that teach you over 100 of the most popular drinks, divided by category. You can print this manual out on your computer or purchase a separate printed/bound manual from us. (*in electronic format)

92-piece Printable Flash Cards*
These are the same two-sided cards we use at traditional schools. These memory aids help our students quickly practice drink recipes and customer service tricks. These are formatted to be printed out easily, or they can be used online. (*in electronic format)

Bartending School Certificate
Be proud of this when you earn it. After passing the final online exam, an unlock code will display. Your custom, signed bartending certificate will be available for download and printing INSTANTLY!

Letter of Recommendation
Personalized, professional employment letter available INSTANTLY after passing the final exam. We are proud to vouch for our graduates!

Sample Bartender Resume
Shows you EXACTLY how to write a winning resume that highlights your strongest points, including your new Bartending School Certificate!

Incident Report Log*
Designed to help protect you legally. Just circle the details. Valid in court proceedings if bound. (*in electronic format)

Identification Log*
Helps you document suspicious purchases. Allows you to quickly circle the details and keep working. (*in electronic format)

Job Assistance Program
We are happy to recommend graduates to employers! We also teach the first-time bartender exactly where to find work and how to find the jobs that never get listed in the newspaper.

Bartending Course Support
Have a problem? Just call us and we'll take care of it! That's the benefit of enrolling in a school that cares about what you make of yourself. Enroll and become a professional bartender today!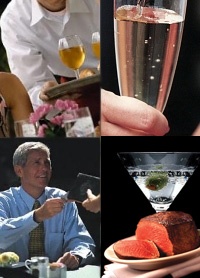 About Us
Professional Server Certification Corporation (PSCC) offers original state-of-the-art training courses that integrate audio, multimedia, retention testing, and feedback for the hospitality industry. PSCC can accommodate individuals or adapt a course for any size organization that wants to train employees.
COURSES:

Bartender's Toolkit Software:


The Bartender Toolkit software package is ideal software for bartenders, bar owners, managers, restaurant staff, employees, and anyone with an interest in bartending, wine knowledge, or the hospitality industry.